Went to a Succulent Society Meeting in Sacramento this week. I'm still kicking myself around for forgetting to grab my camera-the drive was so beautiful with Almond groves in full bloom right now. We drove all around marveling at the landscaping and admiring the Camila trees have to be my favorite. I simply must have a red and dark pink one! John, loves the palms, and he did spy his beloved tree ferns growing down there, so I'm sure that's going on our wish list as well... We had a few hours to kill, so we also strolled around a garden center and I picked up a new Abutilon. I adore Abutilon, and did not bring any along during our move as they are such thirsty things, but since they are hardy here, I will not be able to resist collecting them, I'm sure... I also picked up a Hardenbergia-a sweet little purple vine. I'll need to create as much shade as possible up here and my answer is quick growing vines.
Close-uo of 'Chalo'
Abitilon 'Chalo'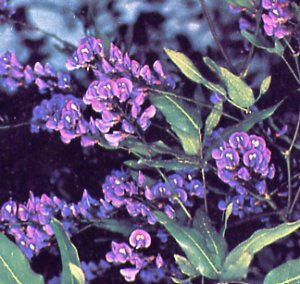 Hardenbergia
The meeting was so inspiring...a member, Mark, showed a movie he shot on a tour a few of the group went on down in Peru. This was well put together set to Peruvian music and his sense of humor made for a very enjoyable hour. Mark is also a potter and he brought his collection to sell. I've been needing a bit of inspiration to get me going on new pot styles, so this was a truly inspiring meeting.
On another note-my Kaffir lime put out only one bloom this year, compared to about 6 last year, but considering the plant stress this year, I'm thankful. I was able to come up with enough seeds from about 6 limes for a flat of 72 seedlings, so I'm anxious to see how many I come up with.. The nice thing about the Kaffir, is that the leaves are used in cooking and not the fruit. I love this little tree I picked several years ago and covet these leaves dearly for my Thai dishes.

The Loquat seeds that I brought back from Maui last Winter all came up and really putting on some new growth. I love the flavor of the Loquat and it puts out such mega amounts of fruit.
Loquat